Who we are

3-D Revolution Productions is a Bristol, UK-based Animation production company, specializing in regular television and stereoscopic 3-D animation and stereoscopic consulting. We are happy to help you with any of your 2D and 3-D animation projects, from script to screen. This includes post-production and stereoscopic specialization like 3-D production consultancy and 2-D to 3-D conversion.

What we do

3-D Stereoscopic Production
3-D Stereoscopic Consulting

Animation production

Showreel 2011 - 3-D Revolution Productions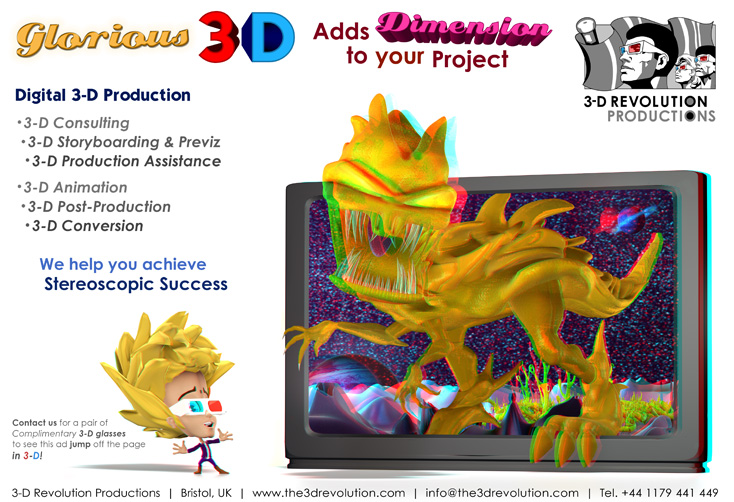 Whether your project is intended for a regular 3DTV a glassless 3-D screen or any other type of 3-D system, we will provide the content. Because with or without glasses, the images you are showing have to be spectacular and engaging. Using the latest, state-of-the-art digital technology we create the highest quality 3-D. And we engage 3-D from a storytelling perspective, not just from a technical angle! So tell a story or present your product in 3-D with us and Wow your audience!



Spectacular stereoscopics in Real-D Cinema presentation, Disney Digital 3-D, IMAX 3D, Television, Web-based presentation or in Print. Production of 3-D images and conversion. When it comes to 3-D content, we've got it convered!

3-D Revolution Productions: 3-D Production and consulting, from script to screen. All angles convered -
in 3-Dimensions.

Contact 3-D Revolution Productions




Tel +44 1179 441 449
3-D Revolution Productions | 51 Sefton Park Road | Bristol BS7 9AN | United Kingdom
© 2011 3-D Revolution Productions