2-D to 3-D Conversion

3-D conversion is a service 3-D Revolution Productions offers. From stills to film and video, we volumize it all. Contact us for a quote.


Introduction

The conversion of regular still and film material is the biggest subject in the realm of stereoscopics because of its very nature. If it works one can abandon the need for stereoscopic cameras and with it the need for knowledge of how to work them. It basically means skipping a huge step in production of stereoscopics,

However, converting to 3-D still means understanding stereoscopic 3-D framing, layout, depth and volume settings and 3-D cinematographic practise. A badly layed out 3-D conversion will still look bad and will even hurt the eyes! Chose quality and experience when it comes to stereocopic 3-D imagery, however acquired.



3-D Conversion still of a flat photograph for
Medborgarservice Andersberg, Halmstad, Sweden
by 3-D Revolution Productions

3-D Combined Render & Conversion still of
Television Animation series Noddy
by 3-D Revolution Productions

The concept of 3-D conversion

Still from 'House of Wax' -
Shot in 3-D

Still from 'She Wolf of London' - Conversion to 3-D
by use of horizontal camera movement; Monsterkid 3-D


Still from 'Casablanca' - Converted to 3-D
by 3-D Revolution Productions
The moving camera technique
Stereoscopics work because our eyes see objects from a slightly different angle. So if you put two cameras next to each other, at the distance our eyes do, you can record images stereoscopically. So here's the trick: in stead of using two cameras you can move one camera slightly to the left or right whilst recording a subject. These two sequential frames can then be used to do the same thing as two cameras can: create a stereoscopic image.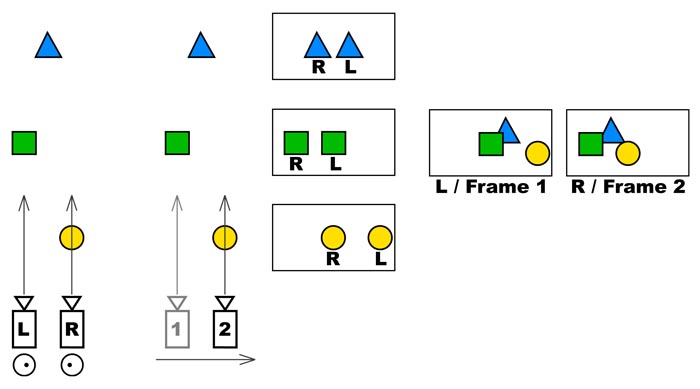 As you will understand, this technique only works when the camera makes a horizontal camera move. When the camera moves vertically, the sequential images cannot be used to create a stereoscopic image. So the problems with this technique are clear: the camera has to be moving sideways plus it has to be moving sideways only, not vertically at all. Using this automatic technique still means needing to know how large or small the camera distance should be in realtion to what 3-D effect is required.

Philips 3-D TV automatic process
The luminance of a shot can be used to create a depth map that can then be applied to create a volumetric image of a shot. This is the technique Philips is suggesting for their automatic 3-D conversion process. Of course, this process is a total lottery when it comes to results because different shots are lit differently and lots of inverse volume, flat planes and fringing on the sides of objects will result. But if you insist on using automatic 3-D conversion, there you have it.


Moving objects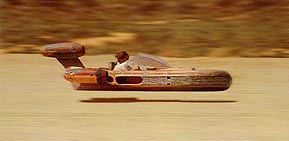 The alternative to moving the camera is moving objects in front of other objects. Because objects (or screen pixels) moving faster than other objects (or screen pixels) are usually closer to the camera, using two sequential frames to make a stereoscopic image can work in this instance as well. This technique is somethimes refered to as Motion Vector dimensionalisation. Again, the limitation of this technique is that objects need to be moving constantly. Moreover, the non-moving objects and background imagery will look as flat as a pancake. And that is terribly bad for a movie calling itself 3-Dimensional.
There are machines and computer programs on the market, and have been since the 70's, that do exactly this: stagger sequential frames in the hope there is horizontal camera or object movement. These devices are called 'real-time 3-D converters'. Theoretically speaking they could be just that but practically speaking they are absolutely not.

Separating layers
Using a lot of patience, a computer and a skilled matte cutter / rotoscoper, each frame of a film can be made into a steresopic image by separating its layers and recomposing the image. Quality wise, this is the best way of converting to 3-D because of the control one has over the stereoscopic composition. However, this does create flat objects only since object are cut out like cardboards (the term cardboarding is often used for this result) and composited like this in depth. There are ways of making object round again, but even more time must be invested in application of CGI image manipulation. The results, however, will be well worth the trouble.
Cutting-out objects in combination with volumizing the resulting layers is what is currently used on films like Superman Returns, Harry Potter & the Order of the Phoenix, and of course the original Star Wars threequel.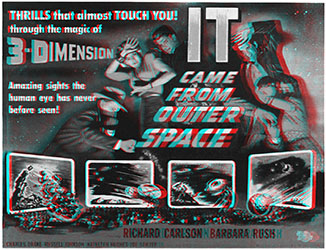 3-D Conversion by 3-D Revolution Productions

Why convert?
Shooting in 3-D is always better than converting to 3-D. To plan for a 3-D release and consider 3-D conversion as the method employed is not the most ideal route. Using 3-D conversion for shots where 3-D cameras just can't be employed is a different matter, but principally, conversion can never get the 3-D detail and sharpness of filmed 3-D. That being said, conversion does give total post control over the 3-D image, so that decisions of 3-D mise-en-scene are very flexible, up to the moment of rendering.
In any case, proper 3-D direction needs to be employed whether the 3-D has been filmed or converted.
Why convert if shooting 3-D doesn't have to be a problem? With proper guidance from 3-D experts a stereoscopic shoot doesn't need to be more of a problem than a regular shoot. The statement that it's better to do conversion after shooting a film with one regular camera is totally illogical because 3-D experts are needed to do the conversion anyway, which process will then yield results far inferior to a stereoscopically shot film.
More importantly, perhaps, is the argument that a film framed for flat performance is not going to look its best when converted to 3-D. Likewise, a film shot in 3-D makes so much less sense when shown flat. They are different art forms and are not necessarily mutually exchangeable. Would you prefer a statue of the Mona Lisa over the painting just because it would be volumetric? Likewise, a painting of the David will not impress as much as the actual statue. It's simply a different form of communication. This does not take away the fact that dimensionalisation can make an impact and can be a perfect tool for unique advertisement.

Artistically, 3-D Conversion can be
compared to the controversial practice
of colorizing black&white film


Mona Lisa in 3-D versus the flat original:
Two different visual products
Conversion by Gulielmo Menegatti


The David by Michelangelo:
a still photo can't do it justice

Contact 3-D Revolution Productions




Tel +44 1179 441 449
3-D Revolution Productions | 51 Sefton Park Road | Bristol BS7 9AN | United Kingdom
© 2009 3-D Revolution Productions