Perspective on 3-D Movie Making

Still from Casablanca - Converted to 3-D
by 3-D Revolution Productions

The 3-D ride film - great unpretending use of 3-D

Poking the viewer's eyes out -
Spy Kids 3-D's shameless use of stereoscopic gimmicks
3-D Film - a Medium beyond just Spectacle
Stereoscopic film is more than a medium designed for thrill rides. It is film with an extra axis, and because of that more of an engulfing, interactive experience than any other broad audience entertainment. Stereoscopic film touches its audience, and does so almost physically. Because of this real depth, classic mise-en-scene goes out the window.
When proper 3-D mise-en-scene is executed, framing becomes quite a different thing. Just think of a real close-up - 2 inches from the viewers face. This is discovering film anew.


| | |
| --- | --- |
| Still from Jaws 3-D. Any closer and we'll be kissing along with these two loverbirds! | Sharkboy & Lavagirl 3-D - literally stuck in ridefilm mode |
"3-D is not reality. It's simply another way of creating an art form. 3-D is a total illusion, it's not just adding something to heighten something else."
Murray Lerner, director of 1978's 'Sea Dream' and 1982's 'Magic Journeys'
"The only hope for 3-D is that someone will come along with taste and understanding and do a good story without regard for the extremes of 3-D, using it in terms of story itself. There's a real need for story, story, story."
Arch Oboler, director of 1952's 'Bwana Devil'
"Three-D is the best visual medium ever invented. And it's also the least understood and most abused. It's just like having diamonds that are covered with dirt and saying they're not worth anything. Three-D is not a lot of trouble if people understand what the potential is."
Chris Condon, inventor of the StereoVision lens, 3-D consultant on 'Jaws 3-D'
"If you try to stick things out of the screen at every opportunity it's like asking a musician to always play loud. You know, 'It's always gotta be loud'. It's really crazy."
Lenny Lipton, inventor of CrystalEyes and DLP 3-D technology, COO of Real-D


The Phoenix that is 3-D Cinema

3-D Film is in the middle of making a grand comeback. But it hasn't been readily around for 30 years. Perhaps part of the magic of 3-D film is its actual rise and fall, rise and fall, and rise again; like a phoenix rising from its ashes time and again. It is certainly a quality 3-D cinema shares with the most favourite of myths, histories and stories. But why has 3-D cinema disappeared so quickly after such a spectacular entrance 30 years ago and 30 years before that as well? And how can the format be so famous, loved and crowd pulling, and not be on the daily theatre menu?

One of the reasons why the 3-D format kept getting extinct was because its costs were too high - both recording and projection wise (150 to 170% of production plus distribution costs). On top of that the general audience didn't revere 3-D movies and didn't take the medium too seriously. It is quick and easy math for a movie industry bent on major profit, so 3-D has had to go after a year of success again and again.

Both with the fad of 1953 and that of 1983 3-D movies got a bad reputation for generating headaches with its audience. This was usually due to mistakes made by projectionists, or error in equipment and its alignment. But a big part was often also due to poor 3-D direction and camera work - an easily forgotten part of the story!

Film projection has traditionally always been - and continues to be – something one does with one idiot-proof projector. When 3-D introduced two-projector or two-filmstrip setups this all became radically more difficult and technically challenging and many projectionists got it horribly wrong. The headache reputation of 3-D film found its way into the public mind.


Dual 70MM (no, not IMAX) Projectors
in the 1970s

Change for the better

It does appear to take precisely one generation to get over this bad memory, witness the 30 year gaps between the 3-D success years; 1953, 1983 and 2003. This time over, though, the 3-D boom is spearheaded by IMAX 3-D successes and a revolution of digital projection. The technically near-perfect standards of IMAX theatres and DLP projection in regular cinemas do ensure absence of projection mistakes and so headaches with the audience. Time will teach us now if the disappearance of 3-D from movie theatres was really all about bad projection or maybe whether the 3-D films themselves had something to do with it all as well.

There's a nagging feeling that comes to a filmmaker when there's talk of a spectacular film format that disappears because of monetary and technical difficulties. Why did all the other new formats of film make it to the 21st century then? Is the third dimension not as much an improvement of film as stereo sound or colour is? More importantly, some filmmakers still prefer to shoot in black & white, or even on the actual ancient stock, just for the aesthetic quality of it, or to concentrate on particular cinematographic elements. So why is 3-D film not being used for such practices? Is it just because of the technical limitations?

A theatre showing 3-D film must have a very particular setup to present 3-D film in a decent way, and since this setup is not present by standard, only theatres that are especially prepared for 3-D presentation (like IMAX theatres and 3-D DLP-enabled theatres) will be able to play the film. But systems like Dolby Digital, platter film storage and two-cinema projection of film are common practice these days so cinemas are not totally unable to make these kinds of technical leaps.

Could there possibly be a problem with the way filmmakers at large have been approaching 3-D film at large?



Poster for It Came from Outer Space
Converted by The 3-D Revolution
Click for a larger version


The Polar Express

Take this quote by Robert Zemeckis on The Polar Express (2004):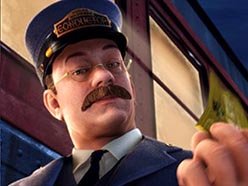 "The Imax movie is 3D (CGI), so compared to mounting and producing a flat 3-D movie as opposed to a 3D 3-D movie, all you had to do was flip a switch. So it's pretty great. Production had finished and Imax came to us and said, 'You know, we want to release the movie in Imax.' And their guy said, 'How about 3-D, can we do that?' We said, 'Well, everything's in 3D. I guess you can.' So they did."
So not one of the shots for The Polar Express was ever staged for stereoscopic viewing. Still, The Polar Express was a big success - but that could be more to do with its timing and subject; Christmas and Santa Claus. It never fails.
In general, this indifferent approach to the 3-dimensionality and stereoscopic staging has resulted for The Polar Express in an uneducated use of 3-D. Almost every shot has objects sticking out of the screen. This tires the eyes quickly and renders real visual treats with object out of the screen unimpressive. 3-Dness is, like any filmic technique, as impressive as it is unique in the whole of the film. It's all about relativity: if all shots are of maximum depth and use all available z-axis space, no one shot will stand out. On top of this, again because of the absence of 3-D planning when the film was created, there are not enough points of reference to establish the depth of scenes. This makes scenes recede and lose impact.
Time to ask Sony Pictures Imageworks (SPI) ourselves! As published in Australian New Media Magazine 'Digital Media World', here's us asking digital Effects supervisor Rob Engle the questions that nobody else did. Q&A with SPI on the Polar Express 3-D (Click to open interview)

Dracula
Presentation limitations aside, is the stereoscopic factor a valuable asset to film, or is it just a gimmick? Stereoscopics are being perceived by the industry as the ultimate visual extravaganza for film, but too complicated or expensive for its own good. Because of this, mostly only short, special films are being recorded in 3-D. Like ride-films for theme parks or IMAX theatre showings. This exclusiveness has made today's public associate 3-D film with the thrill-ride film, the IMAX, and their effect-driven content. Sometimes, however, a flat narrative film incorporates short pieces of 3-D film for its special look and attraction to audiences - like the ending of Nightmare on Elmstreet - Part 6 in 1983.
On rare occasions, a big Hollywood director might even decide to incorporate 3-D into his or her film for reasons of content. Francis Ford Coppola is one of those directors, and 'Bram Stoker's Dracula' was to be the film. It is not strange that especially Coppola should think of the 3-D option, for he directed 'Captain EO' - the 3-D film attraction at Disneyland (now closed down and replaced by 'Honey, I shrunk the audience').
| | |
| --- | --- |
| I never drink wine... Dracula | Wu! Michael Jackson in better days: Captain EO |
Jim Steranko, the film's project conceptualist:

"The idea of applying the 3-D process to Dracula was Francis' idea. Francis and I talked about it extensively. It really came from his desire to use the 3-D process on the screen and use it well - as many filmmakers have not.
In all, three major sequences would utilize the 3-D process. One was a dream sequence aboard a train when Mina and Van Helsing are traveling to Transylvania as Van Helsing sends Mina into a hypnotic trance, sections of the railroad car vanish, beginning with the roof. Overhead we see clouds . . . rushing past in accelerated motion, phantasmagorically. Last, the climactic chase to the gates of Castle Dracula would be enhanced by the process. Dracula, being a master of the elements, created a kind of earthquake. He commanded the ground itself to open up. There was a scene where Dracula rallies the elements [lightning, fire] . . . and this had to do with the sun going down - because they could get to him and stake him through the heart, cut off his head if they could get to him before sundown."
But the notion of filming these potentially dynamic scenes in 3-D was somehow lost in the shuffle. "My guess is because Francis was determined to bring this picture in on schedule and under budget. There were numerous problems along the way that probably could have changed that. But my guess is that, shooting in 3-D, the manufacture of masks, the distribution of them to the audience to put on - that whole process would have complicated the filmmaking schedule perhaps to the point where it would have jeopardized his requirement that he bring the picture in on time and under budget. The picture was already complicated."

This is almost the opposite of Zemeckis' approach to The Polar Express and sadly it never saw daylight. 3-D for its added value, and not just at the box office. To Zemeckis' credit, Monster House (2006) and Beowulf (2007) were designed from day one of production to the 3-D stereoscopic releases. And it truly shows!

Still from an uncomposited shot in 'Jaws 3-D'
Because mid-production the sfx company was changed,
many shots in the final film ended up un-or miscomposited

Alfred Hitchcock's
'Dial M for Murder'

3-D Segments
A total of about 150 stereoscopic features for cinematic release were produced up until 2006. A list of productions incorporating 3-D in any way would number over 300. However, only 150 of these 300 films consist of stereoscopic sequences only. To see the actual list of all 3-D films ever released, go to the 3-D Film List section right here on The 3-D Revolution website.
Usually the full-length features incorporate a clearly defined piece of the film where the stereoscopic segment starts and audience has to put on the 3-D glasses. A perfect example of integration of this 'Now is the time to put on your glasses' in the story of the film is the stereoscopic bit in Freddy's Dead: the final Nightmare (1991) where the main character has to put on 3-D glasses herself to be able to distinct between the nightmare world of Freddy Krueger and the real world she wants to get back to. So the moment she puts on the glasses, the film shows the 3-D part, and the moment she takes them off again, the 3-D part is over. Spy Kids 3-D (2003) outdoes this clarity by flashing the words "Glasses On" and "Glasses Off" on the screen. It also features and explanatory sequence in which this process of putting on the glasses and taking them off again is carefully examined, step-by-step. This somewhat mimics the 1950's tradition of having the film's producer talk to the audience about why and how to wear the 3-D glasses. Just imagine getting it wrong!
Films with this short a 3-D sequence are part of the 150 'partly 3-D films' list.
| | |
| --- | --- |
| Couldn't be more clear about what to do in Sharkboy & Lavagirl | Still from the 3-D sequence in Freddy's Dead: The Final Nightmare |

Anaglyph or polarised

To clear up a general misconception about 3-D movies: anaglyphic stereoscopics - being red-blue 3-D - are mostly used in films with short 3-D scenes and 3-D films with a moderate distribution budget. This, because with anaglyphics only the glasses need distribution and no projection adapter is required in any theatre. Also, re-issued versions of 1950ties movies during the 1980ties revival of the 3D film sometimes used anaglyphics because of these very reasons.
Most 3-D films, however, used - and still do so - the polarized system where polarized lenses separate the left and right eye image through matching polarized lenses on the viewers glasses. This means that full colour, no hassle, no headache films have been around since the start of the polarised 3-D film tradition in the 1950ties.
Modern electronics allow for IMAX theatres to use rapid shutterglass technology - left eye glass blacks out, right eye glass clears up, and invertedly so 1/48th of a second later - a process expanded upon by Real-D's polarizing shutter projection, which requires the audience to wear regular polarised glasses. Read more about these different display technologies in the 21st Century 3-D or the 3-D Script to Screen section.

Still from Amityville 3-D
Pretty much 3-Dimensploitation

Still from Creature from the Black Lagoon
Rubber suit monster falls in love with girl - gets killed
Contact 3-D Revolution Productions




Tel +44 1179 441 449
3-D Revolution Productions | 51 Sefton Park Road | Bristol BS7 9AN | United Kingdom
© 2009 3-D Revolution Productions