3-D Stereoscopic Movie Reviews
The movie is in 3-D, but is the 3-D any good?



Journey 3-D Review

Journey to the Center of the Earth 3-D (Journey 3-D)
The 3-D review
by Alexander Lentjes

Journey 3-D (2008) by Eric Brevig


There are plenty of reviews of Journey 3-D that talk about how great the digital projection of the picture is, how the story is based on a Jules Verne book and how the 3-D HD camera system and the Real-D projection is amazing and digital.

But none of the reviews out there talk about the use of 3-D, and especially not the cinematic use of 3-D. That is mainly because most reviewers will copy press material released by the studio and distributor but also because film critics don't necessarily know anything about 3-D and how to analyze and grade it. So here is a review that does just that: look very closely at the 3-D and talk about why it works when the 3-D is great and what makes for poor 3-D.

For the purpose of this piece, '3-D' stands for Stereoscopic 3-D, 'CGI' stands for 3D Computer Animation. DOP' means Director of Photography and 'POV' is Point of View.
Historical Importance
There is one element that makes Journey 3-D a very important 3-D movie and that is the fact that it is a fictional narrative live-action 3-D movie. This is not the hyper-controlled and purified 3-D image that Beowulf could be, this is real people shot with HD video cameras. Despite the attempts of the publicity people on Journey to call it something close to 'The first live-action 3-D movie in history' (the words 'first digital 3-D movie' and 'first HD 3-D movie' are used), this is close to the 250th 3-D feature release in film history. In this light, using any variation of the words 'first 3-D movie' is ridiculous. Even as a digital presentation, shot in HD, it was superseded by Spy Kids 3-D, to name one title, which was shot in HD 3-D and presented in digital 3-D (at least presented digitally once).
If Journey 3-D manages to hold up in terms of quality and 3-D cinematic end result, the future of 3-D film as it is plotted out by film studios right now looks promising. Mind you, this film is aimed at a very juvenile audience and does not pretend to be anything more than simple, visual entertainment. But still it is the first major 3-D live-action titles to hit the Real-D screens and thus it bears a heavy responsibility, whether it set out to do so or not. Remember, the reputation of 3-D is only as good as the last 3-D film experience and big stinkers can end the dawn of a new cinematic era in quick fell swoops. So does Journey 3-D deliver or will 3-D patrons be turned away from the medium by viewing discomfort and poor quality delivery?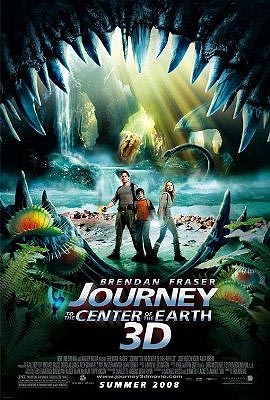 The official Movie poster showing all the fun in one still
Technical Limitations
Journey 3-D is a live-action / CGI movie that relief very heavily on keyed in backgrounds and CGI scene and creature elements. And it does all that in Stereoscopic 3-D. No worries, the camera system employed recorded metadata of focal length, exposure, convergence, interaxial and any other parameter relevant to making compositing a walk in the park. But what if the camera parameters employed, also known as cinematography, are not all that what they could have been? Then the whole composite and end result will be not what it could have been. The compositing is done really very well and very convincing and the placement in Z-depth, including transition from real elements to CGI elements is nigh flawless.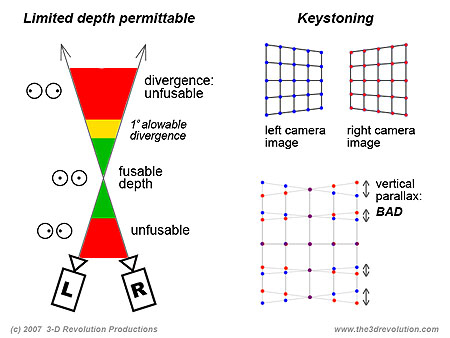 Why convergence is such a bad idea in realtion to viewer comfort

The cinematic use of 3-D in Journey
Scene Depth
Almost all scenes in Journey 3-D are relatively shallow of depth, which should mean a pleasant 3-D experience. But the shallow scene advantage is quickly undone by the use of convergence to set the actors' relative Z-position and the scene's overall depth. The 3-D camera rig used is the Reality Camera System / Fusion 3-D Camera and I know that Vince Pace builds his cameras with heavy convergence control and active tying of convergence to focus (focus-convergence racking). This challenge to 3-D viewing comfort is made worse by the fact that on Journey 3-D Vince Pace himself was advising on how to use the camera. The result? Convergence is employed on most of the shots, with resulting vertical parallax and even divergence on background elements, leading to 3-D viewing discomfort. On most shots, it is painful to focus on the background plane, even when it is out of focus. This should not be as much of a trial in any 3-D movie and it generates the kind of sea sickness people refer to when they talk about nasty 3-D film experiences.
This approach to 3-D film making impacts mostly on close and medium-wide shots and it follows that the most comfortable 3-D shots in the film are the very wide shots in the underground cave and the outside shots at the entrance in Iceland and at the base of Mount Vesuvius. Because the outside scenery resides at infinity, parallel cameras are used rather than converging cameras. Problem of viewing discomfort solved.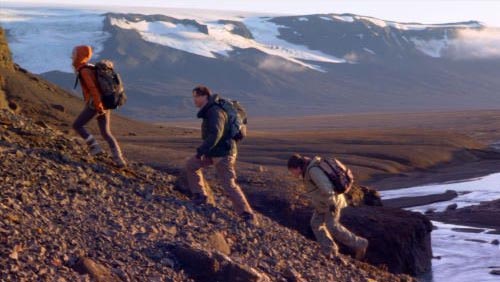 Parallel camera use on a wide shot outside the entrance to the Centre of the Earth
Because real-world sizes were adhered to in both live-action and for the composited CGI background elements, the very wide shots featuring the underground cave and other massive spaces suffer from infinity flatness. As a background will seize looking volumetric and deep after 50-100m, such background plates should have been approached in a more flexible interocular way. With CGI background compositing one is not glued to a fixed interocular for all the elements in the scene. Variable interocular is a valuable tool in these instances that should not be ignored for the sake of mimicking real-world 3-D camera photography.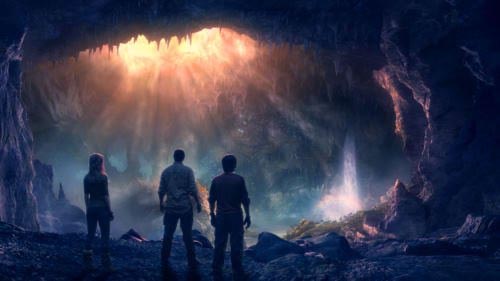 The Centre of the Earth - a lovely 3D Matte
One of the very few shots where a larger interocular is used to creative benefit is a shot of the boy washed up on the shore after the ocean storm. The short depth of the shot is greatly enhanced by using a large interocular, making the boy very volumetric ad the scene much more intense than a regular interocular would have accomplished.
An interesting by-product of converging camera rendering happens on the ocean surface in the calm ocean wide shot, buldging the surface itself as a result of Z-depth compression. I doubt that this was a conscious visual effect, but it is inoffensive to the untrained 3-D eye and can be left alone for the unintended 3-D optical distortion it is.
The one sequence that works best in all 3-D respects is the credit sequence at the end of the movie. It may not be part of the movie, but it sure is part of the screen time. So what works so well about the credit sequence and why? Having clear-cut two to three-layer depth framing for one. The best 3-D shots are often the simplest ones with two or three layers at a clear distance, giving the brain simple to place and interpret depth. The second successful element of the credit sequence is the titling. Contrary to 2-D rules, silver flying logos work beautifully in 3-D, especially when they are set off against a simple, flat-ish background plane or two.
Negative parallax shots
The two points remarked on mostly before by various non-3D professionals who have seen Journey 3-D are how the Stereo 3-D in Journey 3-D is calm and not making one (sea) sick, and that the out-of-screen 3-D is alright and not distracting from the plot. Why do ordinary patrons feel the need to remark upon this element? Clearly, they go into a 3-D film presentation with a preconceived notion of expecting negative parallax elements and expecting them to be extreme, zany and distracting from the plot. 3-D film makers are simply not addressing this element and preconceptions are met time and again in 3-D film releases. Likewise with Journey 3-D.
The film pretty much starts with a shot showing the tentacles of a bug poking at the eyes of the audience. This is a quick reminder that we are watching a 3-D movie because other than that, this negative parallax serves no function. The shot is closely followed by Brendan Fraser brushing his teeth and spitting out down into the camera. It is a shot purely aimed at grossing out the audience and gunning for a laugh on this level. Innocent fun and indeed non-obtrusive, but not in any way functional 3-D other than to get a quick laugh. Negative parallax is used in the same way on several other shots well spaced out in the movie.
There is a ruler shoved in the face of the audience, which doesn't work because the actor is in focus while the ruler is out of focus. As the brain makes the choice to stay with the subject in focus, the shot falls apart.
The film doesn't use the available audience space in any other way throughout the movie and here and there a glowing bird or dandelion wheel may float out of the screen, but nothing much to write home about. Even with these out-of-screen shots, the effect is limited and never reaches the height of, say, Fuzzball in Captain EO, the telescope and bees in Pirates 4-D or the spider in Shrek 4-D. Getting negative parallax shots right is a fine art that requires very well thought out setting up and execution. In Journey 3-D, this doesn't appear to have happened much.
Other than the small object sticking or flying out of the screen, no real use has been made of the negative parallax space for 3-D faming, set design or character interaction (the non-CGI-type, that is).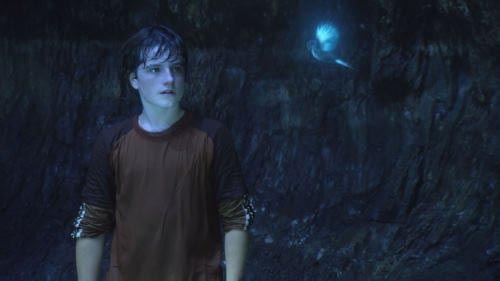 Little blue glowing guide bird flying off the screen


3-D Volumes

Showing great volume is half the reason for shooting a film in 3-D. Volume can be created by having big, geometric shapes, bulging costumes and muscles on actors, round, shapely surfaces and dense particle shapes. In Journey 3-D we are presented with quite a few scenes containing fine mist, dust and smoke, clouds and particle swarms like birds and dandelions. The mist, dust and smoke presented is too fine to work as a volume and too thin to be placeable in Z-depth and so this doesn't work well in 3-D. There is one flat-ish composite of dust when the Icelandic cave is fist entered, which works well because the layer is clearly placed in depth and limited in depth. A shot that works really well is the slow pan down the waterfall in the grand hall: pure volume and planing that works so well in 3-D. More distinct, smaller particles that work well are the water drops falling down with the protagonists on the big fall, as they are hovering in space and clearly discernable rather than too small and fast to track as is often the case with rain in 3-D.

Bigger small objects like the blue birds don't work. They move too fast to focus on and they never come close enough to the camera at slow speed for the audience to get a good look at them. Especially the out-of-screen moments of the guiding little blue bird do not work, coming too close to the camera with too large an interaxial and a resulting impossibility to fuse the object in 3-D (on the cinema screen). The dandelion pods work a lot better because of their slow speed and large relative size.

One big shape that should have looked spectacular in 3-D is the dinosaur. But it simply doesn't. Reasons for this failure to impress with volume are because the camera never stops for long enough and doesn't frame the creature as a whole, just showing quick glimpses of selected body parts. The dinosaur is then rendered at the same interaxial and convergence settings as the live-action camera, resulting in an unavoidable flatness of the dinosaur because of the distance the dinosaur is to the foreground actors and the camera, dictated by the creature's physical size. Being CGI composited with multiple scene elements, the dinosaur could have been given much more volume and depth and definitely more menace. It means using different stereo settings on the camera, but isn't the end result of the image more important than a slavish mimicking of the real world? Stimulation, not simulation, is the word.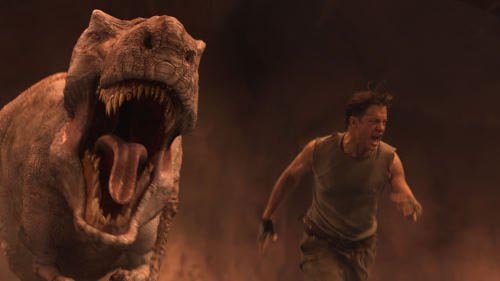 Partially-obscured Dinosaur chases Brendan Fraser

Camera moves
As a general rule, fast camera moves don't work with 3-D. The eyes can't focus well and lose 3-D fusion, which creates discomfort. Luckily, Journey 3-D observes a very camera camera that doesn't swoop and swing. In fact, a lot of shots feature stationery actors falling, jumping or spinning around, while the background is a big blur. This is calmer on the eyes and can make for great 3-D shots. However, when the background becomes too blurry because of fast movement, it then becomes difficult to focus on the background plane and 3-D composition is under threat. This does happen a few times in Journey 3-D and the resulting loss of 3-D mise-en-scene is a real shame.


Depth of field
One of the elements that make this movie look like in-game cinematics is the use of full depth of field in too many shots. Having a full depth of field is 3-D fool's gold. The eyes may be able to scan the image this way, but unless a shot presents a scene that is worthy of being scanned completely by the eyes, there is no point to this. Getting rid of the cinematic visual technique of limited depth of field is a big mistake. In cinematic terms, it's like cutting off your nose to spite the face. It's not just that the film now suddenly doesn't use a cinematic tool that has been used since the beginning of film, over 100 years ago; having full DOF makes focussing on foreground objects more difficult. This is, because the eyes cannot fuse the foreground and the background planes at the same time, and that makes for visual distress. A blurred background allows the eyes to fully focus on the foreground object, making for calmer 3-D and overall, a more cinematic look.
Luckily, Journey 3-D employs normal cinematic DOF, with no desire to keep all scenery sharp and focussed. As the film is shot with HD cameras, this would have made the film look too much like a video production, so it helps on more fronts than one. Some viewers may blame the out-of-focus background for the viewing discomfort experienced with Journey 3-D, but this is mainly due to the employment of convergence and its resulting vertical parallax on the background planes. And that's a bit of a shame.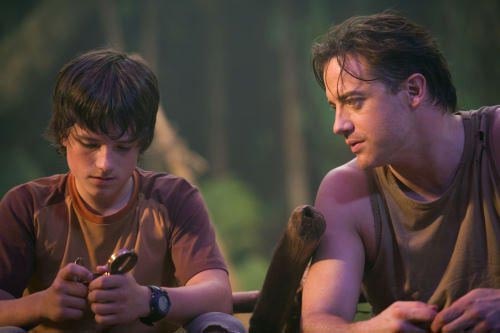 A better cinematic look through the use of proper prime lenses with limited focal length
Framing
Most shots employ DVD-conscious framing with the actors well in the middle and not too much action on the edge of the frame. However, plenty of shots do suffer from retinal rivalry caused by actors and scene elements sitting on the edge of the screen. 3-D cinematic framing is not actively employed when this happens. It begs the question whether the 2-D version of the movie mattered more to the DOP and stereographer on duty than the 3-D version. Bearing the word '3-D' in the title should answer that question, but the reality of this movie is different. Fair enough, retinal rivalry is very difficult o avoid and pure framing for 3-D means an abandonment of over-shoulder shots and cut-off elements, but that just the way it is in 3-D film language. If these kinds of shots matter incredibly much to the director, at least a floating stereo window or non-symmetric dynamic masking should have been employed to solve discomfort caused by retinal rivalry.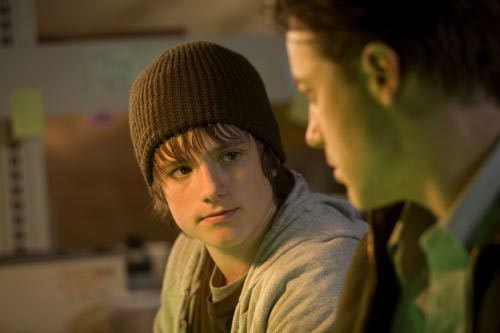 Just don't do it: an over-shoulder shot in 3-D
Ghosting, then, happens frequently throughout the film when spotlights and bright highlights are in shot. Real-D's ghosting reduction can't help with 100% contrast like this and throughout 3-D film history such high contrast shots have been big ghosting.
ome of the key scenes in Journey 3-D employ turnaround-style framing with actors floating in the air, fitting within the confines of the frame and thus not violating the stereo window. These shots work very well and they connect with the fairground and display quality of 3-D imagery. Such shots do allow for the actors to come floating off the screen, but then this is not employed as they remain firmly on and just behind the screen plane. The possible qualities of 3-D should have been pushed much more in these instances for a bigger visual payoff.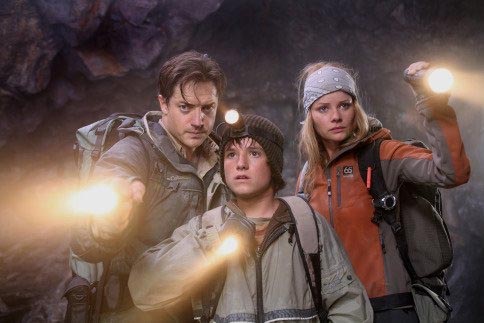 And Boom: ghosting. But you can't blame an American director for wanting such use of high contrast lights.

Colour & lighting use
The success of 3-D Stereoscopic imagery is very reliant on its strong sensory qualities and colour and light use are obviously important factors in the visual impact of the image. Being a movie about the a fantasy world beneath the Earth, where the wildest evolutionary fantasies should be coming true, it is odd to find that a very dull, flat colour palette has been used for all underground shots. Not only does that make the overground shots jump out – like the scene at the base of Mount Vesuvius – it dampens and damages the 3-D experience. A lot of 3-D detail and volume is lost by employing this flat palette and it is a paradox that the most fantastic, wonderful colours appear above ground, rather than in the fantasy realm of the Centre of the Earth. Part of the problem is of course the bluescreen/greenscreen source material for the composites, taking away blue and green colours from the actors, but the CGI background needn't match these flat colours.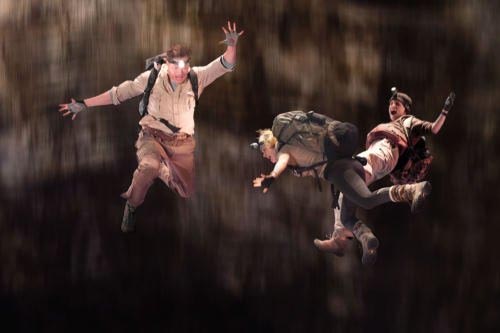 Geronimo! All acting and real world physics are abandoned.
It has come to my attention that the choice for murky, muted colours has been the same as for what was seen in Sharkboy & Lavagirl: the anaglyph DVD release is to work well colour-wise and not have conflicting colours that produce ghosting with the anaglyphs. So that means no red and no blues or cyans, while oranges and greens are sort-of OK but not really super, leaving browns, pinks and purples besides whites, blacks and greys. This is a bit of a technical story, but it certainly needen't be like this. Using the right colour correction for the anaglyph encoding, 3-D film production can use all colours it wants without restraint, resulting in a gorgeous colour-bursting Real-D (and possibly IMAX 3-D) experience and an equally colour-true anaglyph experience - without the ghosting associated with the use of reds and blues.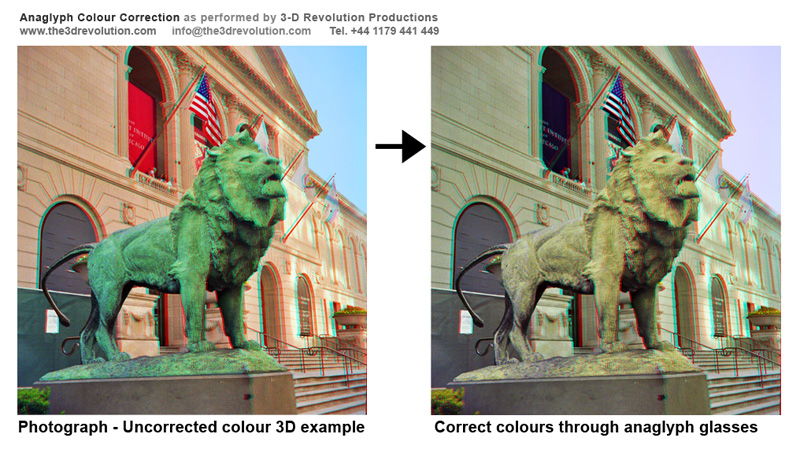 Original Stereo Pair image from Wikimedia, anaglyph created by 3-D Revolution Productions - Original Image from this link
The trick with the whole process is that viewers are not going to watch the 3-D version of the film without analgph glasses on, so they only care about what the movie looks like through their 3-D glasses. The 2D version can then have all the correct colours you like. There is, practically speaking, no reason to keep all colours intact for an analgph 3-D version of a film. What matters is the viewer's experience and the quality of the 3-D plus colour correctness plays a very important part in that. Anaglyph colour correction results in the best possible end results for both these factors.
If you are a producer or director engaged in a 3-D film production, don't hesitate to contact 3-D Revolution Productions to learn about this anaglyph colour correction. It's time to shoot your 3-D project in all the colours you imagined! Contact us:



2D still from Spy Kids 3-D - lush colours, but a potential nightmare for anaglyphs.
No longer so with anaglyph colour correction

Editing
Besides being caused by a converging camera setup, sea sickness (3-D fusing and focal discomfort) is also very much generated by poor editing. Cutting between shots with different convergence settings, focal points and between shots without close foreground objects and over-shoulder framing makes for tough 3-D viewing and Journey 3-D is guilty of this classic 3-D editing crime. Even when the convergence is matched from shot to shot, having foreground object jump into shot on a cut and having wildly different depths of shot does not work.
A noteworthy mention should go to one editing decision in the film that opens up a can of 3-Dimensional worms. On the large plane by the geyser, right before the dinosaur shows up, a time-cutting cross-dissolve with a static camera is employed, fading out the walking boy and making him re-appear further on along the plane. In 2-D, this kind of a dissolve is acceptable and understandable to the brain, but in 3-D, it becomes a problem. Psychologically, such a wipe looks like the boy is fading out like a ghost and reappearing somewhere else. 3-D is, to the mind, a real physical representation of the world. Having plain cuts across different camera angles is workable to the mind, but fades are registered more like magic. That doesn't mean fades and wipes can't be employed in Stereo film, but they must be employed to different creative end results. Remember, 3-D is not regular cinema with just an added dimension; the film language of 3-D is very different to that of 2-D cinema. The area of editing of 3-D cinema is seriously underexplored and the real possibilities and language of this big part of 3-D film making are yet to be uncovered. A bit like the uncovering of the Centre of the Earth with all its hidden beauty, amazement and unique flora & fauna…
Added Value of 3-D
I know it's a bit of a deadly question when talking about cinematic entertainment, but what is the added value of the 3-D with Journey 3-D? Is it like functional nudity, semiotic colour use, multi-layered script writing, or is it just a nice way of presenting the visuals?
Why is it still an important question to ask? Well, as long as 3-D is up and coming again and as long as theatres charge more for the ticket price, there should be an added value to the 3-D. So first and foremost: does the movie look better in 3-D? Sometimes it does and sometimes it doesn't. In places where there are an awful lot of compositing elements and heavy CGI character and background interaction, the 3-D image becomes a puzzle which pieces only just hold together, like the long shots of the raft on the ocean. The image quality enhancement is strongest in the simple, calm scenes. Those shots that would work as still 3-D photographs because of their well chosen interocular, character volume and background plane depth to set this off against. It happens here and there in Journey 3-D and most notably in the floating magnetic rock sequence. In contrast, the dinosaur attacking sequence is simply too busy to enjoy in 3-D, and this sequence will be much more enjoyable in 2-D.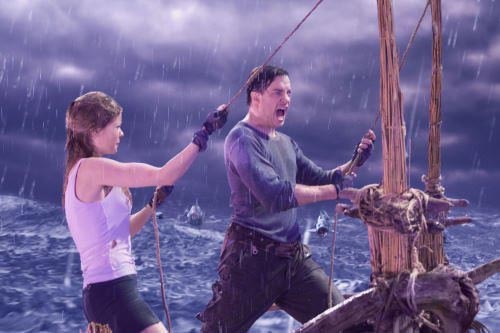 Practically completely CGI-based shot

Artistically, where does the 3-D do more than just look pretty? A great enhancement to the emotional experience of the image occurs with the deep gaping hole shots, the (p.o.v.) mineshaft car ride sequence and the geyser tunnel ride. Here, the ride-film quality of 3-D shines and adds that great primal fear experience to the image. Likewise with the sudden attack of the fish jumping out of the sea at the camera: pure primal fear enhancement.

Do we, the audience, feel closer to the characters through the use of 3-D in Journey, do we care more for their fate and does it make them more believable at all? Not at all. The film does not manage to envelop the viewer in the emotional experience of the characters' journeys through well chosen stereoscopic camera layout.

Save for functional use of larger interaxials, Journey 3-D does not use 3-D camera parameters as a tool to create cinematic visual expression either by enlarging or shrinking characters, making them flatter or rounder. The movie opts for a functional, safe 3-D camera layout and is not interested in telling a story in a language other than the spoken English dialogue. I know the film is aimed at 8-12 year old boys, but that doesn't mean the cinematographic language doesn't need to be intelligent.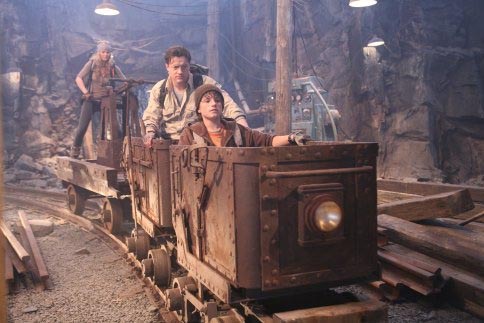 Contact 3-D Revolution Productions




Tel +44 1179 441 449
3-D Revolution Productions | 51 Sefton Park Road | Bristol BS7 9AN | United Kingdom
© 2009 3-D Revolution Productions